I'm very excited to have been asked to participate in this year's Terroir Creative Writing Festival on Saturday, April 12, 2018. Located at the Yamhill Campus of Chemeketa Community College, this all day event (9a-5p) will include Readings, Craft Workshops, and Keynotes by Tracy Daugherty and Fonda Lee.
There will be a reading from The Horse Latitudes and my one-hour workshop is titled
"Resisting Defaults: Ways of Unsettling a Narrative". Here's the description:
When we write, we naturally fall into familiar patterns of storytelling. The resulting work can become predictable and lacking in tension. In this workshop, we will discover new paths as we study non-linear narratives, practice defamiliarizing all-too-common story elements, and experiment with the physical forms within which we construct our narratives.
Registration for the entire event's offerings opens soon (TBA).
* * * * *

I recently had the privilege of discussing The Horse Latitudes with Conrad Wilson on OPB's Think Out Loud. We talked about the book, my service, and my take on the civilian-veteran divide. Listen to it here.
* * * * *
Wordstock update: The events schedule is here–I will be reading from The Horse Latitudes at 10:00a in the Portland Art Museum galleries (exact location to follow).
I will also be visiting the Portland State University Creative Writing / Alumni table from 1:00-1:30p.
And because Wordstock falls on Veterans Day this year, active military and vets get tickets free with ID.
* * * * *

Portland State University's Institute for Sustainable Solutions is presenting a Climate Change Writing Contest! I am honored to be participating as a judge, along with Barry Sanders, Kate Gray, Nakisha Nathan, and Paul Lask, for this moneyed contest: $1,000 Grand Prize, $500 Second Place, and $250 Third Place. From the website:
"In a world locked in the grip of climate crisis, how can we think our way forward?
Science tells us we are at a tipping point—that if we continue with business as usual global temperatures will rise to catastrophic levels in the next three decades, bringing widespread droughts, heatwaves, food and water shortages, flooding, and social unrest.
Three decades. Not a century or two. So what can we as writers do about this?
It might mean reimagining the traditional good life; it might mean explaining how we as global citizens can prevent the harm our children will inherit; it might mean showing how an economy that doesn't wreck the world functions. We are looking for writing that is vivid, beautiful, and bold. Show us."
If you are a PSU student (from any discipline), please send up to 1,500 words to:
writingcontest@pdx.edu by December 1, 2017!
* * * * *

I'm very excited to join so many great writers at this year's Wordstock AND it will be on Veterans Day! So there will be a Pop-Up reading from The Horse Latitudes—see you there!
* * * * *
* * * * *
While writing The Horse Latitudes, I wrote an essay exploring my personal history with anger, and how writing changed everything. It's called "Writing Angry, Writing Anger" and you can read it at Propeller.
* * * * *
October's Liars' League included my story "First Date". The theme was Flesh & Bone.
This is a fantastic London reading series which pairs short stories with actors to be performed live.
Here is the excellent Clareine Cronin's performance from October 11, 2016.
* * * * *
I'm incredibly grateful that "Bleeder", an excerpt from The Horse Latitudes,
will be included in the forthcoming anthology The Road Ahead,
due out in January 2017 from Pegasus Books.
"A decade has passed since boots first hit the ground in Iraq and Afghanistan. Yet the war has not ended—only changed.  Twenty-five diverse veteran voices reflect the changing face of combat and reflect the haunting realities and truths only fiction can reveal."

Pre-order it HERE.
* * * * *
Grist, Issue 9 includes my first coming-home story, "Hypervigilance".
Order it HERE.
* * * * *
It includes my story "Baptism" as well as a fantastic bunch of poets and writers.
Copies can be found here.
* * * * *
I am incredibly honored to receive this year's Oregon Literary Fellowship for fiction,
* * * * *
includes my stories "V is for Valor" and "Sergeant Mills Watches a Fight".
Available here.
"War Stories 2015: An Anthology is a collection of emotional and thought-provoking prose and poetry written by veterans and civilians exploring the effects of war. This book was made possible through the support of Post 134 and Oregon Humanities."
* * * * *
* * * * *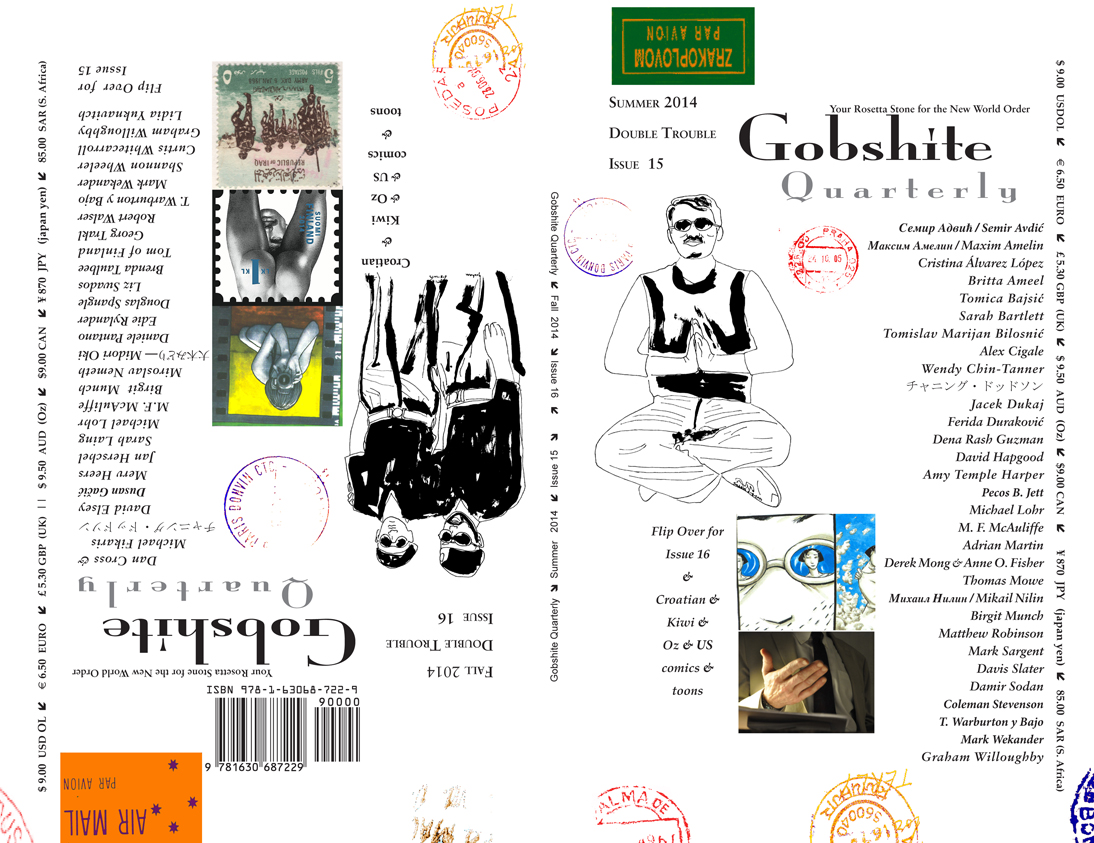 "First Sergeant Orders a Formation" is in Issue 15/16 of Gobshite Quarterly.
Order it here.
* * * * *
Liz Prato, editor. Laura Stanfill, publisher. Gigi Little, cover design.
Ask for it at your local, independent book seller, or order it here.
---